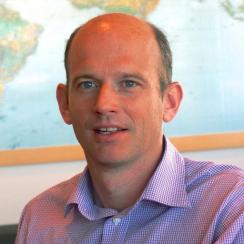 Jonas Moberg
Jonas Moberg was in May 2021 appointed Chief Executive Officer of the Global Green Hydrogen Organisation. From 2018 to May 2021, Jonas held several positions at Trafigura, including as the Global Head of Corporate Affairs and the Global Head of Government Affairs.
Jonas was the Executive Director of the Extractive Industries Transparency Initiative 2007-2018, the global transparency and anti-corruption standard implemented by 55 countries and supported by hundreds of large companies and organisation.
Prior to building the EITI, Jonas was a Senior Advisor in the Executive Office of UN Secretary General Kofi Annan, Director at the Prince of Wales International Business Leaders Forum and member of the Swedish Foreign Service, posted to London and Maputo.
Jonas holds law degrees from the London School of Economics and from the University of Stockholm.
Jonas co-authored the book "Beyond Governments – Making Collective Governance Work" and has written and commented extensively on transparency, corporate accountability, and the role of business in human rights.
Jonas has served on a number of boards and working groups, including as the co-chair of the Ethical Toy Program.