Article
Africa Green Hydrogen Alliance holds regional forum to agree ambition ahead of COP27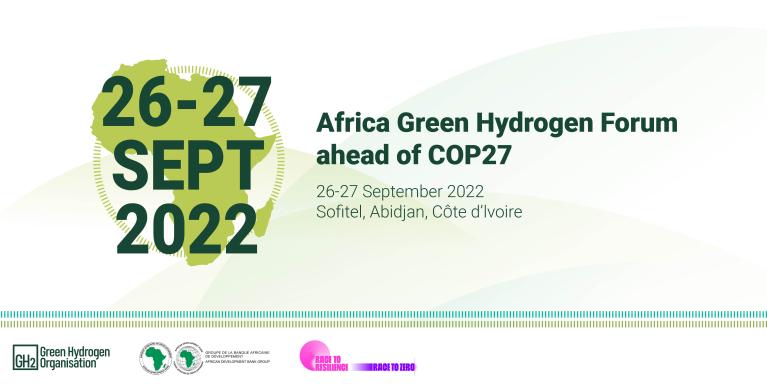 Abidjan, Ivory Coast, 26 September 2022
The Africa Green Hydrogen Alliance (AGHA) is holding its inaugural forum bringing together representatives from African governments, the private sector, civil society and development partners. The forum is a platform for sharing good practice and effective policies that will support the growth of sustainable green hydrogen markets and agree clear targets for green hydrogen ahead of COP27. The forum is co-sponsored by the African Development Bank (AfDB) and its internal entities (the Africa Legal Support Facility and the Sustainable Energy Fund for Africa) and the Green Hydrogen Organisation (GH2) with support from the UN High-Level Climate Champions and GIZ.
UN Climate Change High-Level Champion Dr. Mahmoud Mohieldin said: "The African continent has contributed only 3% of global emissions yet they will be impacted the most by the negative impacts of climate change. However, the continent is one blessed with natural resources and brimming with opportunities to capitalize on the global shift to a clean and green economy. Green hydrogen is one of those opportunities that will contribute greatly to transition to a climate resilient and low carbon development pathway for Africa.  Nevertheless, to capitalize on this new opportunity will require the mobilization at scale of appropriate public and private finance coupled with unprecedented international collaboration to address major barriers. The African Hydrogen Forum provides the platform to begin exploring the various enablers to unlock the opportunities for a green hydrogen economy for Africa"
In this context, AGHA was formed in 2021 and launched in May 2022, with Egypt, Kenya, Mauritania, Morocco, Namibia, and South Africa as founding members. The Alliance will intensify regional collaboration and accelerate the development of green hydrogen projects across the continent to ensure Africa capitalizes on the global momentum underway to  develop green hydrogen. As the alliance expands, other key government officials attending the forum also include Nigeria, Ghana, Niger, Algeria, Angola, Cameroon, DRC, and Rwanda.
AFDB Energy Financial Solutions, Policy & Regulation Director Wale Shonibare said: "Through this initiative, Africa begins the process of regional co-ordination, policy alignment and resource mobilization that is so critical to enabling Africa to play a catalytic role in accelerating the world's progress towards net-zero by 2050."               
All major energy transition pathways have identified green hydrogen as a key solution to decarbonizing sectors such as heavy industry and fertilizers. Africa's immense renewable energy potential and land availability make the region a frontrunner in producing high volumes of low-cost green hydrogen. The International Renewable Energy Agency (IRENA) notes that Africa has the highest technical potential for low-cost green hydrogen production by 2050. African governments are already promoting and preparing projects for domestic use and export, and billions of dollars are expected to be invested over the next few years.
Green Hydrogen Organisation CEO Jonas Moberg said: "Green hydrogen is key to Africa's shift to green energy. It must provide energy for Africa's growing population and industrial needs. It will also offer a major export opportunity for the continent. The Green Hydrogen Organization is partnering with African governments with green hydrogen potential to ensure their green hydrogen projects are both successful and sustainable."
This gathering offers a unique opportunity to benefit from peer exchange between global green hydrogen leaders, explore synergies between green hydrogen projects, and catalyze collaboration with the private sector, development finance institutions, and civil society.
AFDB Renewable Energy and Energy Efficiency Department Director Daniel Schroth said: "We are pleased to support this important event ahead of COP27 in Egypt, which we hope will create the needed momentum to advance the green hydrogen agenda in Africa. The Bank remains committed to provide catalytic finance inter alia via its Sustainable Energy Fund for Africa (SEFA) to scale-up renewable energy generation and green hydrogen production infrastructure across the continent".
About the Africa Green Hydrogen Alliance (AGHA)
The Africa Green Hydrogen Alliance (AGHA) is a government-led platform that aims to intensify collaboration and supercharge the development of green hydrogen projects in Africa. Alliance members Egypt, Kenya, Mauritania, Morocco, Namibia, and South Africa, collaborate on public and regulatory policy, capacity building, financing, and certification, bringing together a network of experts and partners who can support and finance green hydrogen project development. The Alliance aims to make the African continent a frontrunner in the race to develop green hydrogen, accelerating the transition from reliance on fossil fuels and shifting to new energy technologies that open access to clean, affordable energy supplies to all.
Media Contact: Joe Williams, GH2 Director of Strategy and Communications, joe.williams@gh2.org / +447775751170 
AGHA Contact: Joyce Kabui, GH2 Africa Manager, Joyce.kabui@gh2.org / +254 725690506