Article
China's pivotal role on green hydrogen highlighted at international meeting
Green Hydrogen Organisation and Daxing Hydrogen Zone sign collaboration agreement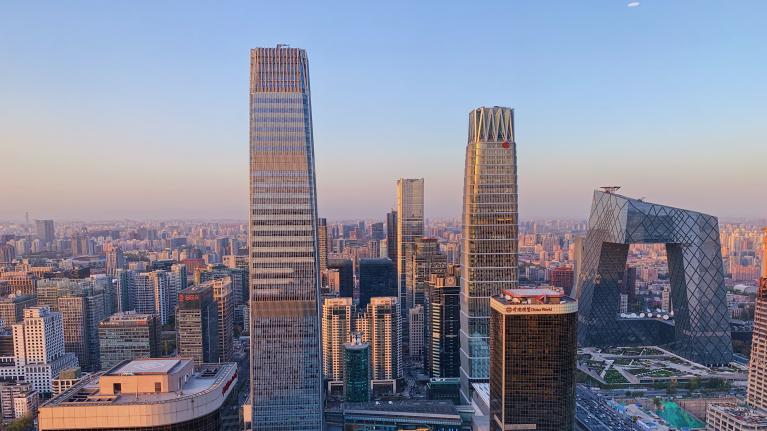 Press Release - 18 January 2022 
BEIJING – The Daxing International Hydrogen Energy Demonstration Zone ("Daxing Park") in Beijing and the Green Hydrogen Organisation (GH2) today forged an unprecedented alliance in the battle against climate change. International partners from government, academia and the private sector came together and highlighted China's pivotal role in increasing the uptake of green hydrogen and global efforts to rapidly phase out fossil fuels in key economic sectors. 
The event featured the signing of a memorandum of understanding (MoU) between GH2 and Daxing Park where both parties agreed to work together to enable a rapid acceleration in green hydrogen production and use through championing innovation, establishing a global green hydrogen standard and connecting Chinese and international companies to improve competition and efficiency.  
GH2's Chair Hon. Malcolm Turnbull said: "At this critical moment in the battle to stop global warming, the stakes could not be higher. Chinese and international companies' collaboration is key to unlocking green hydrogen's potential, which is essential to removing fossil fuels from industries such as steel, cement, fertilizers, road haulage, shipping and aviation. China's role as a renewable energy leader and green hydrogen technology manufacturer is important to growing the international green hydrogen industry." 
Deputy Director, Department of Energy Conservation and Technological Equipment, National Energy Administration, Mrs. Yafang Liu said: "China has become the world's largest hydrogen and fuel cell commercial vehicles producer, with Chinese enterprises taking the lead in deepening consultation and cooperation on hydrogen. More than 20 Chinese provinces have already issued 170 guidelines on further development of hydrogen energy. Construction of Daxing International Hydrogen Energy Demonstration Zone played a crucial role in that and I hope that Daxing District will seize the opportunities created by the world energy transformation, further strengthen technological exchanges and international cooperation to achieve carbon neutrality." 
Jonas Moberg, GH2's Chief Executive Officer said: "Without green hydrogen made from renewable energy the world will not be able to decarbonise the industries that we rely on in our modern way of life like steel and cement. No effort to achieve this goal will succeed without China and international partners from the public and private sectors working together to increase supply, stimulate demand and innovate to make green hydrogen the cost-competitive energy source of choice in these hard-to-abate sectors. Today's event has only served to underscore the importance the new partnership between GH2 and Daxing Park and I look forward to building on this foundation in the future." 
Daxing District Standing Committee Member and District Deputy Mayor Niandong Gao said: "Green hydrogen has become an important tool for industry decarbonization. One of the advantages of China is its strong hydrogen infrastructure, which creates almost limitless space for the development of green hydrogen. Daxing District, where the Daxing Park is located, is a new growth point for the Chinese capital, Beijing, and is able to accelerate the development of the hydrogen industry. I believe that the cooperation between Daxing Park and the Green Hydrogen Organisation will deepen the exchanges and communication of green hydrogen enterprises worldwide and promote the development of the global green hydrogen industry, as well as contribute to sustainable development." 
GH2 was launched in September 2021. It is chaired by Former Prime Minister of Australia Malcolm Turnbull. GH2 is a Swiss non-profit foundation spearheading a global effort to accelerate the production and use of green hydrogen. GH2 is developing the Green Hydrogen Standard, an accreditation standard which will provide certainty to investors and consumers around the world that green hydrogen projects have near-zero emissions and conform to rigorous sustainability criteria. GH2 facilitates collaboration between governments, companies, development partners and other stakeholders that are engaged in the development of green hydrogen. GH2's team is led by CEO Jonas Moberg. www.gh2.org  
Daxing International Hydrogen Energy Demonstration Zone ("Daxing Park") based in southern Beijing is building a world-leading hydrogen energy demonstration zone with a focus on transportation. This includes hydrogen production, storage, processing, manufacturing of core fuel cell components and vehicles. The aim is to develop the hydrogen energy industry into a new major driving force for economic development. Daxing Park is also focused on promoting international partnerships and collaboration. 
ENDS 
Contact at GH2: Joe Williams +44 77 5757 1170 / joe.williams@gh2.org  
Contact at Daxing Park: Olesia Ermakova +86 132 695 509 50 / olesiaermakova@dsbz.com