Event
Africa Green Hydrogen Forum (Africa Climate Summit- Nairobi, Kenya)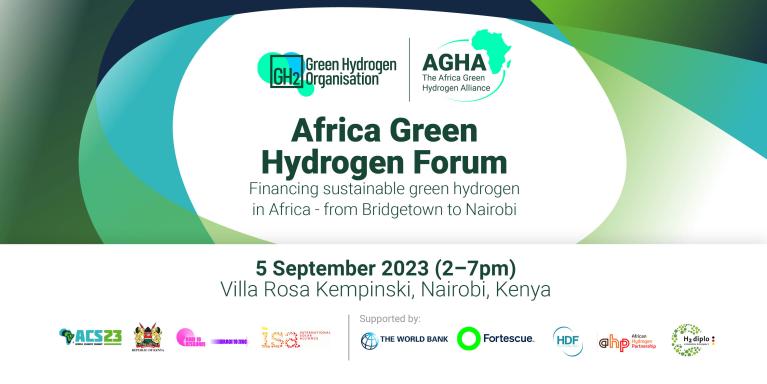 RSVP to the Africa Green Hydrogen Forum
The Africa Green Hydrogen Alliance (AGHA), the Green Hydrogen Organisation (GH2), the UNFCCC High-Level Champions and the International Solar Alliance (ISA) are hosting a forum on Tuesday 5th September during the Africa Climate Summit (ACS) and Africa Climate Week (ACW) in Nairobi. The forum is strategically important in building an enabling environment and capacity of African governments to host large-scale renewable energy, principally solar and wind, and the green hydrogen economy. 
The forum will bring together approximately 200 senior representatives from governments, industry, and civil society to articulate financing targets and mobilise commitments to achieve a speedy, sustainable, and transparent renewable energy and green hydrogen industry scale-up. This will feed into the Nairobi Declaration to be submitted by African Leaders to COP28.
It will link the Paris Financing Pact Summit outcomes and the AGHA Nouakchott message to the financing needs of developing and emerging economies.  The forum will identify how Africa can contribute to the achievement of the COP 28 President-Designate's push for the tripling of renewables and doubling of hydrogen production, which will form part of AGHA's messaging for COP 28 and UNGA.
The forum will contribute to establishing a private sector-led Africa green hydrogen financing vehicle and establish an Africa Green Hydrogen Finance Task Force. The sessions will rally stakeholders towards enhancing local benefits and content to increase social and economic value across the supply chain.
The Forum will welcome new members to the Africa Green Hydrogen Alliance (AGHA), including Angola, Ethiopia and possibly Djibouti and a couple of other governments. For these countries, it will be important that the international community supports them in developing their roadmaps and strategies, learning from other members of AGHA. This aligns well with ISA's plans on green hydrogen road mapping and ecosystem readiness with a number of overlaps on focus countries in Africa. Lessons from other countries and international good practices will be shared, as captured through the virtual Green Hydrogen Innovation Centre (GHIC) launched by the International Solar Alliance at the G20 Energy Transition Ministerial in July 2023, supporting the production, utilization, and trade of green hydrogen. The Forum will create a new network of government officials that future training programmes can focus on. 
The Forum is strongly backed by the Kenyan government, which will present its new green hydrogen roadmap. President William Ruto is giving large-scale renewable energy and the green hydrogen economy absolute priority at the Africa Climate Summit and Africa Climate Week. 
RSVP to the Africa Green Hydrogen Forum
Agenda
*denotes speakers to be confirmed.
14:00-14:30

Opening session: Financing green hydrogen in Africa - from Bridgetown to Nairobi 

Hon. Kgosientsho Ramokgopa, Minister in the Presidency responsible for electricity, Republic of South Africa 
H.E. Abdessalam Mohamed Saleh, Minister of Economy and Sustainable Development, Mauritania
Dr. Ajay Mathur, Director General, International Solar Alliance 
Dr. Andrew Forrest, Executive Chairman, Executive Chairman and Founder of Fortescue Metals Group, Fortescue Future Industries*
Dr Mahmoud Mohieldin, UN Climate Change High-Level Champion for Egypt and Executive Director at the International Monetary Fund
Margaret Mutschler, Vice President - Project Development, CWP Global

14:30-15:30

Opening panel: Supercharging Africa's green industries and jobs

This session will demonstrate the potential domestic economic contribution and climate mitigation potential of Africa's renewable energy and green hydrogen industries. The session will build on ensuring a rapid energy transition, globally and nationally, and in developing local economies focusing on the reduction of dependence on fossil fuels, particularly when used for power. It will explore the role of green hydrogen towards increasing food security in the production of fertilisers. 

Hon. Dr. Mohamed Shaker El-Markabi, Minister of Electricity and Renewable Energy, Egypt*
Hon. Tom Alweendo, Minister of Mines and Energy, Namibia*
Thomas Östros, Vice President, European Investment Bank*
Nicolas Lecomte, Director Southern Africa, HDF Energy
Alexia Latortue, Assistant Secretary for International Trade and Development, U.S. Department of the Treasury*
Hussain AlNowais, Chairman, AMEA Power*

Moderated by: Jonas Moberg, CEO, Green Hydrogen Organisation

15:30-16:00

Tea break

16:00-17:00

Enabling environment and frontrunning renewable energy and green hydrogen projects in Africa

This session will spotlight innovative efforts by Africa Green Hydrogen Alliance founders and prospective members to create an enabling environment for renewable energy and green hydrogen investments and share policy and project progress across the region. The green hydrogen economy will require significant solar capacity, ensuring vast economies of scale and local manufacturing. This session will look at green hydrogen projects as anchor investments and customers to the solar industry, making renewables more cost competitive.

H.E. Habtamu Itefa, Minister of Water and Energy, Ethiopia*
Lehbib Khroumbaly, Technical Advisor, Ministry of Petroleum, Mines and Energy, Mauritania 
Dr. Silas Simiyu, Technical Advisor the President, Office of the President, Kenya
Sylvie Mahieu-Sorensen, Chief Investment Officer, African Development Bank

Moderated by: Richard Kiplagat, African Hydrogen Partnership

17:00-18:00

Accelerating financing for green hydrogen projects in Africa

Focus on accelerating financing and concrete public and private financing opportunities needed to realise Africa's green hydrogen potential. The session will consider new financing mechanisms and consider how to implement the Nouakchott message on financing green hydrogen in Africa.

Catherine Koffman, Group Executive Project Preparation, Development Bank of Southern Africa*
Erik Magnus Fernstrom, East Africa Energy Programme Manager, World Bank
Mphokolo Makara, Head Energy and Infrastructure East Africa, Standard Bank
Leticia Ferreras, Director, Allianz Global Investors*
Nicola Mustetea, Director and Head of Climate, British International Investment

Moderated by: Katherine Stodulka, Chair, Blended Finance Taskforce

18:15-19:00

Financing targets for renewable energy and green hydrogen in Africa for COP28

Open roundtable discussion on how the Africa Green Hydrogen Alliance can drive financing targets and commitments and mobilise new finance mechanisms for projects in Africa to be launched at COP28.

Masopha Moshoeshoe, Chief Director: Investment Promotion, Ministry of the Presidency, South Africa
Paul Wambugu, Innovation Manager, Kenya Electricity Generating Company (KenGen)

Moderated by: Joyce Kabui, Africa Manager and AGHA Coordinator, Green Hydrogen Organisation

19:00

Africa green hydrogen reception 

Announcement: Welcome to new AGHA members.