Event
Highlights from the Green Hydrogen Global Assembly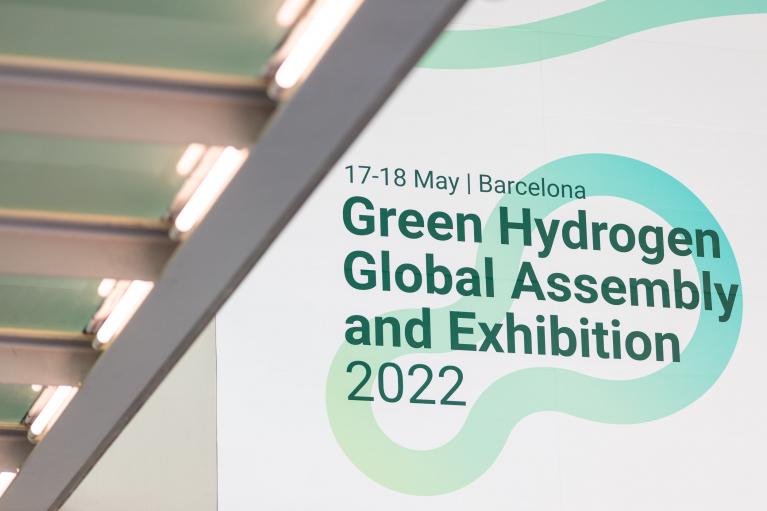 The first ever Green Hydrogen Global Assembly was held in Barcelona on 17-18 May 2022. This unprecedented event brought together global leaders from government, industry and civil society to strategize on the role of green hydrogen in addressing the dual challenges of climate change and energy security. 
Below we share just a small selection of the many highlights from the event. All sessions are available in either video or audio, together with photos and presentations here. 
The Green Hydrogen Global Assembly brought together ministers and government leaders from 15 countries; CEOs and leaders from the world's foremost green hydrogen companies including Plug Power, thyssenkrup, Acciona, H2 Green Steel, Korea Zinc, ACWA Power, Fortescue Future Industries, Adani, Avaada, CWP Global, Enel and Envision; and civil society leaders. The assembly saw global progress achieved and new initiatives launched on scaling up the green hydrogen sector including: 
The Green Hydrogen Standard 
The Green Hydrogen Country Portal 
The "100 by 2030" campaign: a global call for at least 100 million tonnes of green hydrogen to be produced annually by 2030 – for climate and security 
A message to COP27 
Green hydrogen contracting – for people and planet 
The Africa Green Hydrogen Alliance 
Details on the next Green Hydrogen Global Assembly and other events will be announced soon, and we hope you will join us! 
GH2 Chair Malcolm Turnbull's welcome address 
At his welcome address, GH2 chair Malcolm Turnbull made clear that "we simply cannot meet the challenge of global warming without green hydrogen…Green hydrogen is the essential enabler of the transition to a safer planet, to a decarbonised future, one that we can responsibly leave to our children and grandchildren."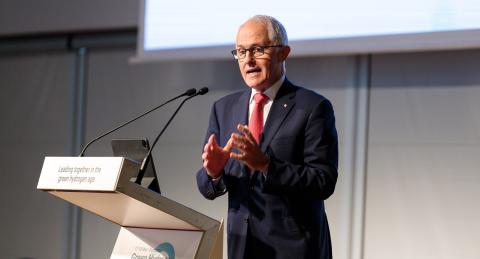 Spain's Deputy Prime Minister and Minister of the Ecological Transition Teresa Ribera's special keynote address 
In her special keynote address, our co-host Teresa Ribera, Spain's Deputy Prime Minister and Minister of the Ecological Transition, greeted the assembly as the "friends of green hydrogen…This assembly has been quite smart in identifying what concrete things can be developed through this friendship…When we all stand behind challenges and try to respond in a common manner, in a coordinated way, challenges become easier to overcome". Commenting on the Green Hydrogen Standard launched at the assembly, Minister Ribera recognised the need for a standard to "be sure that when we talk about green hydrogen we are talking about the same thing all over the world".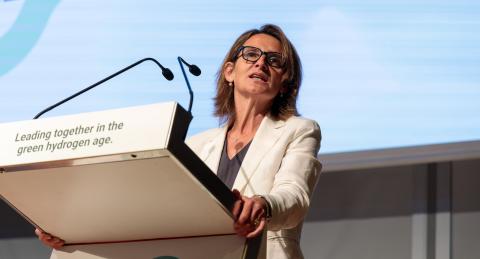 China and US climate envoys make the case for green hydrogen 
We were honoured to have two of the world's most influential voices on climate change address our assembly: US Special Presidential Envoy for Climate John Kerry and China's Special Envoy for Climate Change Xie Zenhua. 
Speaking from Beijing, Xie Zhenhua shared three key messages at our opening plenary session: 
First, the development of green hydrogen conforms to the global trend of green and low-carbon transformation; 
Second, the development of green hydrogen will become an important action for China to achieve carbon neutrality; 
Third, the development of green hydrogen could be an important area for international climate cooperation. 
In our closing plenary session, John Kerry made a number of candid remarks in a conversation with our chair Malcolm Turnbull: "We've made big promises in Glasgow, they are achievable, but unfortunately we're not pushing hard enough globally to achieve them" 
"I think great progress is being made on scaling of electrolysers and production itself. I think that will continue. Could we do more? Yes, I think we need a number of Manhattan projects around the world. We're putting billions on the table, as are others, which helps me to feel some sense of optimism that we will get where we need on hydrogen." 
In response to the launch of the Green Hydrogen Standard defining green hydrogen as produced with renewable energy with limited or no emissions, Mr Kerry said: "Right on target. Coming up with a standard is really important, and that's going to have global impact. Thank you very much to any and all of you who have been involved in that, it is a great step forward."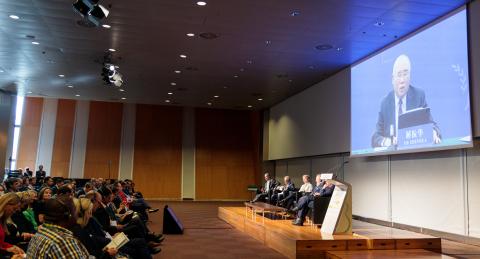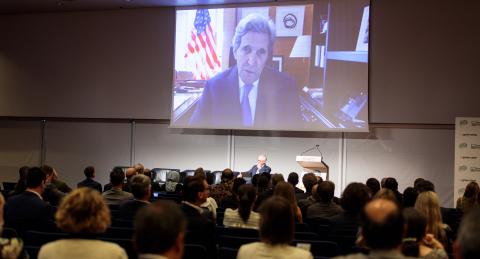 Setting the stage with a market forecast on green hydrogen 
Our market forecast plenary session was hugely popular and ensured the discussions at the assembly were grounded in hard evidence. Following a presentation by Kobad Bhavnagri, Global Head of Strategy at BloombergNEF, Lord Adair Turner, Chair of the Energy Transitions Commission, Francesco La Camera, Director-General of the International Renewable Energy Agency (IRENA) and Paolo Frankl, Head of Renewable Energy at International Energy Agency (IEA) discussed the market outlook for green hydrogen with expert moderation from Nienke Homan of the Sustainable Hydrogen Club and GH2 Board member. 
BloombergNEF's Kobad Bhavnagri made clear that to reach a hundred million tonnes of green hydrogen annually by 2030, the installed capacity of electrolysers and the rest of the industry needs to double its capacity every year between now and 2030. He also noted that "with current gas prices, ammonia using gas is no cheaper than green ammonia." 
Lord Adair Turner encouraged the sector to focus on four key issues during the session: 
Focus on demand as we work to achieve target prices first of USD 2 per kg H2 and later USD 1 per kg H2. Even at those prices, the green hydrogen market will struggle to compete with the marginal costs in installed fossil fuel-based production. Strong government policies and mandates for green hydrogen use are needed. 
Focus on the current use of hydrogen. Grey hydrogen has to be brought to an end. 
Focus on transport and storage costs. 
Focus on the massive need for renewable energy. There is a need for twice the current production dedicated to green hydrogen.  
Energy security and REPowerEU 
The horrors of the Ukraine crisis have placed energy security at the top of the global agenda. Threats to cut off gas supplies and the EU's plans to end oil imports from Russia show the inherent problem with relying on the fossil fuel industry and the urgent need to make a major energy shift into green energy. At a session dedicated to this issue at the assembly which coincided with the European Commission's REPowerEU action plan, participants heard from Ukrainian activist Olena Pavlenko who leads the think tank DiXi Group. On behalf of the assembly, GH2 CEO Jonas Moberg expressed solidarity with the Ukrainian people and unwavering support.  
Beatriz Corredor Sierra, President of Red Eléctrica Española (REE) made clear that green hydrogen provides a unique lever to solve the many crises we currently face from the cost of living, to climate change and energy security. Heather Grabbe, Director of the Open Society European Policy Institute noted the major opportunity for green hydrogen in achieving energy security, but also the challenge of renewables build out. She warned against green hydrogen making the same mistake as the fossil fuel sector in the past where local community needs are often not adequately considered. Dr Andrew Forrest, Chairman of Fortescue Future Industries, warned against misinformation from the fossil fuel sector aimed at perpetuating the longevity of oil and methane gas and implored the EU to raise its ambition on electrolyser manufacturing capacities, as well as calling for courage to take green hydrogen to the next level.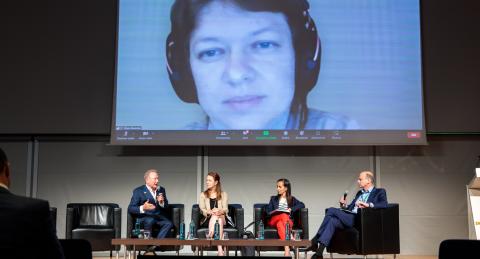 Launch of the Green Hydrogen Standard 
The assembly saw the launch of the Green Hydrogen Standard. In the first global effort of its kind, green hydrogen projects that meet the Green Hydrogen Standard will be licensed by the Green Hydrogen Organisation to use the label "GH2 Green Hydrogen" and will be eligible to obtain and trade GH2 certificates of origin for green hydrogen and derivatives such as green ammonia. The standard defines green hydrogen as hydrogen produced through the electrolysis of water with 100% or near 100% renewable energy with close to zero greenhouse gas emissions (<=1 kg CO2e per kg H2 taken as an average over a 12-month period). The Standard requires that the environmental, social and governance consequences of green hydrogen production are addressed and requires that the development opportunities and impacts of green hydrogen production are considered.  
Among the industry leaders welcoming the launch of the Green Hydrogen Standard were: 
Dr Andrew Forrest, Chairman of Fortescue Future Industries and founding member of the GH2 Board said: "The inextricable march of green hydrogen has been further strengthened by the global acceptance of the GH2 Standard which will ensure people get what they think they are paying for - a fuel which does not harm the planet" 
Yun Choi, Vice Chairman of Korea Zinc said: "I congratulate GH2 on launching the Green Hydrogen Standard. This is a very timely and critical first step in building the confidence and transparency needed in the market amongst producers, investors, offtakers and the broader community to kick start the global trade of green hydrogen." 
Martina Merz, CEO of thyssenkrupp said: "I am convinced that the Green Hydrogen Standard will help to make green hydrogen a commodity, to set the commercial stage through defining green hydrogen and to extend global collaboration." 
Lei Zhang, founder and CEO of Envision, said: "This standard sets a clear benchmark for green hydrogen as the world's 'new oil.'"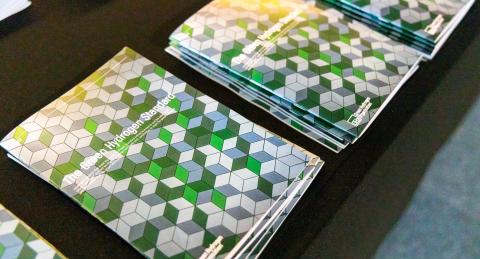 Launch of the 100 by 2030 campaign and recommendations to COP27 
The Green Hydrogen Global Assembly saw the launch of the "100 by 2030" campaign: a global call for at least 100 million tonnes of green hydrogen to be produced annually by 2030 – for climate and security. At a session dedicated to industry efforts to meet this target, consensus emerged from top CEOs that even if it is a stretch, it is possible to achieve. Paddy Padmanathan, CEO of ACWA Power, which is co-developing the 4.3GW Neom green hydrogen project in Saudi Arabia, said that the 100mt target was achievable: "This nonsense about sitting and waiting for the market…I'm sorry, the market is there. It's 100 million tonnes that's being used today — grey hydrogen. So why is it that we want to invent a new market? "[Reaching 100 million tonnes of green hydrogen] is not an issue, but it can be done only if we all just get on with doing it." 
The campaign will seek pledges of support and will work with partners to track government policies and companies' capacity to deliver 100 million tonnes of green hydrogen annually by 2030. 
Key to this effort in the near term is a call on COP27 parties to rapidly accelerate the production and use of green hydrogen. At the closing plenary which included participation by UN Climate Change High-Level Champion Dr. Mahmoud Mohieldin, an initial version of the Message to COP27 was adopted by GH2 Chair Malcolm Turnbull including eight key measures. 
Thank you to those who have provided feedback. Further feedback on this Message to COP27 is welcome. Please send comments to team@gh2.org 
Green hydrogen contracting - for people and planet 
Due to the speed of industry developments and high potential for projects to generate development benefits, GH2 has worked with an expert working group to prepare guidance to support decision makers, communities and companies in developing contracting practices for green hydrogen projects that ensure rapid expansion to everyone's benefit. The consultation version of the set of guidance is now live on gh2.org. An overview of the guidance is available here. 
Looking ahead, the guidance will be strengthened and expanded. GH2 will be looking to collaborate with the expert working group and partners to provide tailored guidance on policy questions covered by the guidance in partner countries.  GH2 welcomes comments and feedback on the guidance to ensure it is as useful as possible to government, project developers, lenders, civil society and local communities.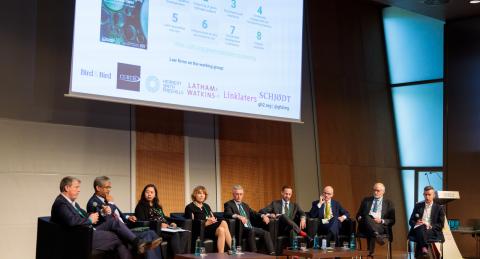 Green Hydrogen Country portal 
The GH2 Country Portal was launched during the assembly, with thanks to contributions from leading governments. The portal provides an overview of announced policies, targets and financing towards the development of green hydrogen in selected countries with ambitious strategies. It will be expanded and regularly updated in close cooperation with each country to showcase government leadership on green hydrogen as strategies evolve. Government delegations were also brought together to explore how to further mobilise and demonstrate government leadership towards COP27. Onwards and upwards!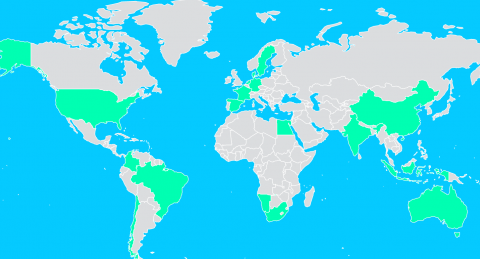 Launch of the Africa Green Hydrogen Alliance 
Six African countries formally launched the Africa Green Hydrogen Alliance at the Green Hydrogen Global Assembly. In forming the Alliance, Kenya, South Africa, Namibia, Egypt, Morocco and Mauritania aim to make their continent a frontrunner in the race to develop green hydrogen, accelerating the transition from reliance on fossil fuels and the shift to new energy technologies that open up access to clean, affordable energy supplies to all.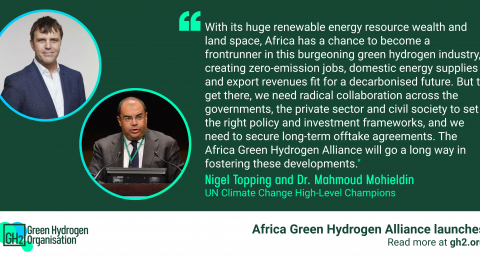 China - a green hydrogen powerhouse 
Building on China's Special Envoy for Climate Change Xie Zhenhua's remarks, a hybrid session connected participants at the assembly in Barcelona and the Daxing International Hydrogen Energy Demonstration Zone near Beijing to discuss how key government and industry leaders will turn China's ambitious green hydrogen roadmap into reality. Eight government and industry experts shared various perspectives across the green hydrogen value chain, from renewable energy and hydrogen production to use of green hydrogen to decarbonise hard-to-abate industries. 
Youth for Green Hydrogen Declaration 
Given that young people are key in the green hydrogen revolution and are the future stakeholders in this industry, the need to involve these young women and men in the green hydrogen sector was highlighted at the assembly. The world's first Youth Declaration on Green Hydrogen which puts forward youth-led solutions was presented at the GH2 assembly. 
The declaration proposed youth interventions in the areas of advocacy, capacity building, entrepreneurship, and youth-led innovations. Strengthening young women's participation, increased involvement in impact measurements, and inclusion of marginalised youth in green hydrogen initiatives was also mentioned. 
The declaration put youth at the forefront of the green hydrogen transition and is set to be presented at COP27 later this year. Young people from Europe, Latin America, India and South Africa joined in the consultation to prepare the working document.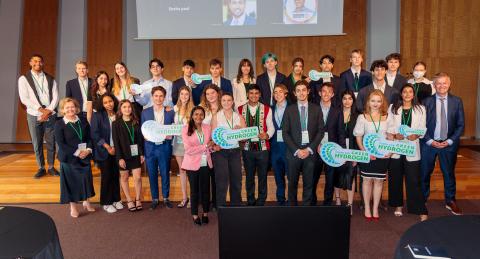 Photos, videos, audio and presentations are now available 
This set of highlights cannot do justice to the rich discussions and messages made during the assembly. Photos, videos, audio and presentations are available here. 
Thank you to our partners  
We are grateful to our partners for their support in making this unprecedented gathering possible.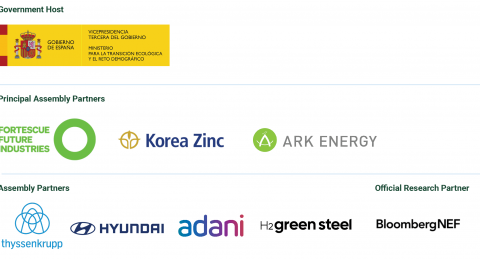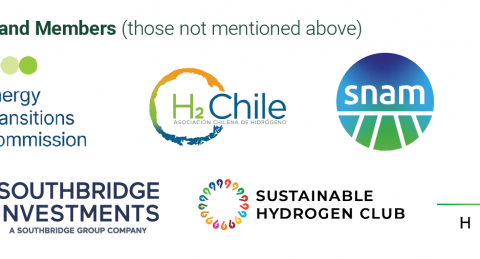 Contact  
For any questions, please contact us via email at events@gh2.org.