Green Hydrogen Vision
Colombia launched its Hydrogen roadmap for the next 30 years. This roadmap is the result of 5 months of analysis evaluating all stages of the value chain. The project has been structured in 4 large blocks:
Production. The cost of hydrogen and its derivatives has been determined throughout the country.

Demand, emissions, and exports. The potential uses in the different sectors were evaluated, as well as their impact on the energy matrix, and the reduction of associated emissions in 3 different scenarios.

Regulation and gaps. The current legislation was analysed, an international regulatory benchmark, an analysis of gaps with relevance for hydrogen, as well as the development of a Legal Roadmap identifying the responsibilities of the different public entities in the country and the steps the country should follow to establish a hydrogen economy.

Socialization plan: the roadmap is the result of a collaborative work between multiple public and private actors.
Colombia´s high renewable potential and its access to maritime trade routes due to its position with access to 2 oceans, make it a country with an export role.
National Strategy/ Policy
Colombia has a high potential for renewable energy. The best capacity factors are found in La Guajira region with an average and maximum solar factor of 19% and 21%, respectively. Regarding wind power, there is an average and maximum factor of 46% and 63%, respectively. These factors allow to obtain: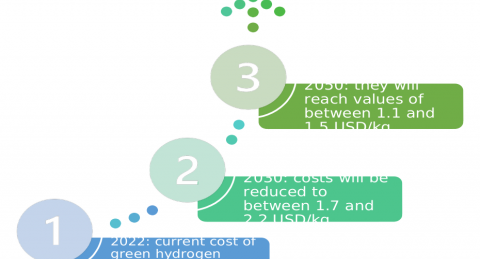 The lower limit corresponds to areas with minimum values and the upper limit to the average values with wind power.
In addition to the high resource, Guajira has a high renewable potential of at least 25 GW of onshore wind and 45 GW of solar, thus bringing together the necessary elements to become a global green hydrogen production hub.
Furthermore, Colombia's offshore wind potential in the Caribbean is outstanding reaching 50 GW.
Capacity and Price
Electrolyser capacity target: 1 GW - 3 GW (in GW by 2030)

Electrolyser current capacity: 77 kW

Current price: between 2.1 and 2.8 USD/kg (in $/kg)

Price target: between 1.1 and 1.5 USD/kg (in $/kg by 2050)
Impact Targets
Existing applications (2020-2026), low-emission hydrogen will begin to be consumed in refining and will begin to be used for heavy land transport.

Emerging applications (2027-2035), use in light transport vehicles and fertilizer production.

Disruptive applications (2036-2050), there will be a great deployment in the previous uses and, in parallel, new applications will be created, such as maritime and air transport through derivatives, flexible electricity generation in combined cycle plants, steel production and the use of hydrogen mining trucks.

Previous demand for hydrogen will lead to abatement of emissions of between 2.5 and 3 million tons of CO2 during the 2020/2030 decade, allowing to decarbonize sectors that are difficult to abate such as heavy transport, long-distance or industrial processes.
Policy Spotlight
Law 2099 of 2021 approved in July of 2021 updates current energy regulations to achieve an effective energy transition and invigorate the energy market. One of the key measures adopted was the amendment of Law 1715 of 2014, which represents the most important norm in Colombia in terms of promoting Non-Conventional Energy Sources (FNCE) and Non-Conventional Renewable Energy Sources (FNCER) since it includes incentives and tax benefits for investments in these sources. The new Law includes green and blue hydrogen as FNCER and FNCE, respectively.

This addition allows the application of tax benefits and incentives to green and blue hydrogen projects and provides clarity and certainty regarding the support given by Colombian public administrations for the development of low-carbon hydrogen.

According to the definitions of Law 2099 exclusively, green hydrogen is considered an FNCER and can be produced from sources such as biomass, small hydroelectric plants, wind, geothermal, solar, or tidal. Blue hydrogen is considered an FNCE and is produced from fossil fuels adding CO2capture, utilization, and storage system (CCUS). Innovations/highlighting key projects (optional)

Currently the Ministry of Energy and Mining is focused on implementing the actions of the first phase of the Hydrogen roadmap with the aim of creating a strong hydrogen market.

Colombia is advancing in the development of pilot projects. First two green hydrogen pilot projects:

Ecopetrol. 50 kW PEM electrolyser connected to 270 solar panels in Cartagena´s Refinery

Promigas. 20 kW PEM electrolyser producing green hydrogen to inject into the natural gas network in Cartagena
Financing
Through the Energy Transition Law the government gave responsibilities to the Fund for Non-Conventional Renewable Energy Sources and Energy Efficiency (FENOGE) to promote and finance Green and Blue Hydrogen projects. Since then, FENOGE has opened the initiative +Hydrogen which has the following objectives:
Promote and foster knowledge and applications of green and blue hydrogen.

Identify all the projects and players across the hydrogen value chain.

Structure innovative and appropriate investment and financing mechanisms with non-reimbursable and reimbursable resources.

Leverage other resources (private, development, multilateral banks, financial institutions, international cooperation agencies)

Colombia is currently structuring a Fund with the world bank to continue promoting Energy Transition in the country, hydrogen technology is included in the target projects of this fund.
Government Green Hydrogen Lead
Mónica Gasca, Adviser to the Minister's Office and Hydrogen Leader