Green hydrogen vision 
The Kingdom of Morocco aims to create an economic and industrial sector around green molecules, particularly hydrogen, ammonia, and methanol, to consolidate its energy transition by contributing to reducing greenhouse gas emissions and supporting decarbonisation in partner countries. 
Morocco has exceptional potential in renewable energy sources, which combined with its expertise will provide momentum to the green hydrogen development in the country. The aim is to use green hydrogen production to promote its economy and strengthen energy security.  
The government envisages that green hydrogen production will add value to renewable electricity production, in particular its transformation into products with higher energy density. The demand potential in large economies and markets like Europe represents an opportunity to export green energy. Establishing a national industry based on green hydrogen is also aimed at replacing ammonia imports with local production. 
"We can develop win-win alliances and position ourselves as an African green hydrogen hub." Samir Rachidi, Director general, IRESEN  
National Strategy
The Moroccan Ministry of Energy, Mines and Environment set out a roadmap on green hydrogen in 2021 under the National Hydrogen Commission (created in 2019). The country is expecting a demand up to 30 TWh by 2030 and 307 TWh by 2050, that would require 2GW in renewable energy sources.  
The strategy is based on three pillars: market and demand, with recommendations to create better export and storage conditions, technology facilitating cost reductions and local industrial integration, and investment that identifies possible clusters and measure for its financing. Morocco has an established renewable energy model and a decent geographical positioning, with proximity to Europe and pre-established energy interconnection infrastructure, that makes its potential for green hydrogen even better.  
The strategy considers 3 phases of development: 
2020-2030: The short term considers the local use as a raw material and exports to targeted countries. The development is based on pilot projects using government and international financial support. This period will witness higher costs of production. 
2030-2040: The medium-term explores the opportunities to reduce production costs and local usage of green hydrogen in the electricity sector. 
2040-2050:  In the long term, the roadmap will improve the business case for green hydrogen at the world level. It includes expansion of usage to the heat production sector for residential and urban mobility usage, including heavy vehicles and aviation. 
The strategy also strongly supports the local production of ammonia, an industry where Morocco has so far relied on imported ammonia to meet its needs.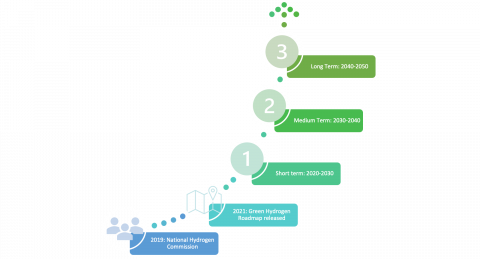 Capacity and Price
By 2030, the country envisages a local hydrogen market of 4 terawatt hours (TWh) and an export market of 10 TWh, which, taken together, would require the construction of 6 GW of new renewable capacity and support the creation of more than 15 000 direct and indirect jobs (MEM, 2021). 

The World Energy Council study estimated the global market for green hydrogen and its derivatives at 20,000 TWh in 2050. On the assumption by the Kingdom of Morocco that in 2030, this global market would represent 600 TWh- a study "Economic Opportunities of Power-to-X in Morocco" demonstrated that Morocco could capture up to 4% of this global demand by 2030.  

Based on the calculations in the country's roadmap, it is estimated that the green hydrogen industry and its derivatives in Morocco could meet a demand of between 13.9 TWh and 30.1 TWh in 2030, which could reach between 153.9 TWh and 307.1 TWh in 2050. 
Impact Targets
The targets have not yet been identified by the government. 
Policy Spotlight
Policy Spotlight:
a) Creation of favourable conditions for export: The development of a green hydrogen export industry and its derivatives will be made mainly through the establishment of maritime transport of synthetic liquid fuels, the deployment of port infrastructure adapted as well as the deployment of production and storage infrastructures and export.  
b) Development of domestic markets: The government will support the industry by organizing exchanges of information and platforms that can serve as a basis for coordinated planning of different parts of the industry, in addition to the support for R&D, scaling up by providing grants and research tax credits.  
Project Spotlight: 
Financing
In the green hydrogen roadmap, it is estimated that the development of the green hydrogen industry in Morocco would require an investment of 140 billion dirhams (€13 billion) up to 1,000 billion dirhams (€95 billion) between 2020 and 2050 to meet the potential demand by 2050. 

Total Energies is investing €9.4 billion in a green hydrogen and green ammonia project to set up facilities in the Guelmim-Oued Noun of Morocco.