Green hydrogen vision
South Africa identifies green hydrogen as an essential component of its energy transition plan and towards the global commitment to decarbonize its economy (Hydrogen Society Roadmap, 2021). 
South Africa has the competitive advantage to produce and export green hydrogen energy and aims to work on the existing opportunities to directly replace the hydrogen produced from natural gas by green hydrogen. The implementation of the hydrogen roadmap is in lines to tackle electricity supply issues and support inclusive growth and assist government to reduce unemployment, poverty, and inequality. 
"If South Africa fully implements the Hydrogen Society Roadmap, within a few years, at least 20 000 new jobs will be created in South Africa as part of the adoption of the Hydrogen economy" - Blade Nzimande, Minister of Higher Education, Science and Innovation 
National Strategy
The Department of Science and Innovation has launched a Hydrogen Society Roadmap for a hydrogen-based economy future. The roadmap targets four outcomes: 
Create an export market for South African Green hydrogen and ammonia 

Green the power generation sector 

Decarbonize the transport and heavy industry sector 

Locally manufacture green hydrogen supply chain components 
The Department of Science and Innovation and partners launched a Hydrogen Valley Feasibility Study Report in October 2021. Three Green hydrogen hubs were identified- Johannesburg hub, Durban hub, and Mogalakwena and Limpopo.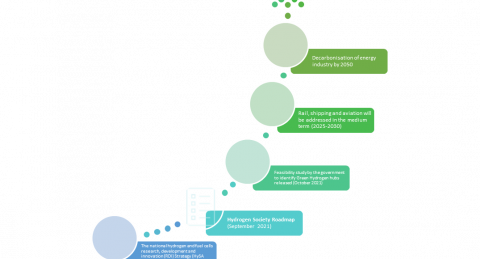 Capacity and capacity targets
• According to the Hydrogen Society Roadmap (HSRM), the aim is to produce 500,000 tonnes per annum of green hydrogen by 2030. 
• The South African government aims to deploy 10 GW of electrolysis capacity in the Northern Cape region by 2030 and 15 GW by 2040. 
According to a report by National Business Initiative, South Africa could produce green hydrogen for $1.60 per kg by 2030, one of the lowest costs worldwide. 
Impact targets
The Hydrogen Roadmap targets at the following impact of its measures: 
100 H2 buses and trucks by 2025  

500 H2 buses and trucks by 2030  

30,000 jobs created annually by 2040  
Policy Spotlight
CoalO2-X RDI Programme: The government aims to use renewable or green hydrogen and pollutants (CO2, SOx, NOx etc.) contained in the flue gas from coal fired boilers to make value added products that can support the transition to a decarbonized energy system. 

Sustainable Aviation Project1: South Africa's biggest ammonia supplier, Sasol Ltd, and Linde PLC bid for a project contract by the government (also under the Hydrogen roadmap) to produce sustainable aviation fuel (SAF) under the auspices of the German Federal Government's H2Global auction platform.
Key Projects
Proof-of-Concept (POC) project: Sakhumnotho Power has partnered with Keren Energy Investments to produce green hydrogen at a site supplied by Namaqua Engineering in Vredendal, Western Cape. This project is the first in South Africa to demonstrate the feasibility of producing green hydrogen using solar energy as the energy source. The generated H2 will be used in hydrogen fuel cell vehicles.  

Hydrogen Valley1: An industrial cluster, bringing various hydrogen applications in the country together to form an integrated hydrogen ecosystem. The South African government is working with the Anglo-American Platinum and ENGIE on this programme. The valley starts near start near Mokopane in Limpopo, through the industrial and commercial corridor to Johannesburg and leading finally to Durban.  
Financing
The Department of Science and Innovation has provided €3 million to kick-start the CoalO2-X RDI Programme  

German development bank KfW initiated a EUR 200 million programme to support the establishment of green hydrogen projects in South Africa. 
Government green hydrogen lead