Green hydrogen vision
Hydrogen production using renewable sources has been recognized in Spain's National Energy and Climate Plan ("NECP") as having a key role in the country's energy transition. It is considered an important and flexible energy vector that allows the integration of surplus variable renewable electricity and therefore a higher penetration of renewables in the electricity system. The development of hydrogen as a renewable fuel is considered a priority to decarbonize the industrial and mobility sectors of Spain (National Hydrogen Roadmap, October 2020). 
Spain has an abundance of sunshine and windy hillsides, making it a well-suited location for green hydrogen plants. The government plans for Spain are therefore to position the country as a renewable hydrogen exporting nation of Europe in the medium-long term. According to the Ministry for Ecological Transition and the Demographic Challenge, green hydrogen is a "country project" for Spain.  
"Each kilogram of green hydrogen that replaces a fossil fuel will prevent nine kilograms of CO2 being emitted into the atmosphere"- Pedro Sanchez, Prime Minister of Spain 
National Strategy 
In October 2020, the Ministry for Ecological Transition and the Demographic Challenge (MITECO) approved the "Hydrogen Roadmap: a commitment to renewable hydrogen". The strategy is a follow up of the EU Hydrogen Strategy for a climate-neutral Europe by 2050. The roadmap has a set of challenges, opportunities and measures for robust development of hydrogen technologies and establish a market for the entire hydrogen value chain: production, storage/transport and usage (whether as a fuel, energy vector or as raw material for industry). 
The roadmap defines 60 specific measures which are divided into the following 4 blocks: 
Regulatory: At present, hydrogen production is considered an industrial activity, thus the roadmap suggests modifying the classification of on-site renewable hydrogen production and developing policies to facilitate the development of direct electricity lines dedicated to renewable hydrogen production. It also attaches a green tax to the positive externality of producing green hydrogen. 

Sectoral: These include measures for the different components of the hydrogen value chain. Establishing a statistical system for hydrogen data, development of particular financial instruments for green hydrogen industry and creation of hydrogen "valleys" are some of the key aspects. Furthermore, this block describes promoting the consumption of renewable hydrogen in the transport sector. 

Cross-cutting: Support for the cross-cutting instruments that establish suitable technical and technological framework for the fulfilment of the defined objectives. The Hydrogen Roadmap aims to be a dynamic instrument that is updated every three years in order to correctly evaluate the degree of success. 

Promotion of R&D: Exclusive lines of financing will be provided for projects in the renewable hydrogen value chain. The role of the National Hydrogen Centre ("CNH2") as a leading public R&D centre will be strengthened. 
A first nation-wide consortium (Shyne – Spanish Hydrogen Network) was launched in January 2022, which includes 33 of the most important players in the Spanish energy market, as well as industrial and transport companies. The consortium is led by operators such as Repsol, Enagás, Iberia and Navantia and plants to develop projects in a dozen autonomous regions with a combined investment of € 3,230 million.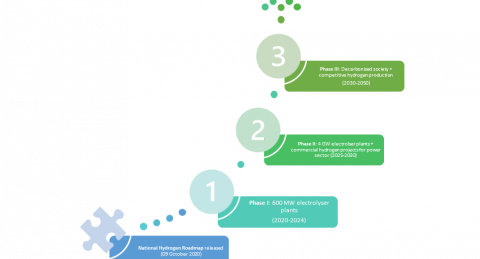 Capacity and capacity targets
• Spain has a production capacity of 600 000 tonnes of green hydrogen in 2021. 
• According to the National Hydrogen Roadmap, the total electrolyser capacity target of Spain is 600 MW by 2024, increasing to 4 GW by 2030 (10% of the EU total).  
• According to estimates by the Spanish government, the current electrolyser capacity is 40 MW (2022).
• Spain is part of the EU collective price target of green hydrogen at $1.4 per kg by 2030. 
Impact targets
With the green hydrogen strategy, Spain aims to replace 25% of the current 500,000 tonnes of fossil-based hydrogen consumed by the Spanish industry annually, with green hydrogen. 

The aim is that the CO2 emissions will annually be reduced with 4.6 million tonnes by 2030. 

The strategy sets out the aim of adding a fleet of at least 150-200 fuel cell buses and between 5,000-7,500 light/heavy-duty hydrogen fuel cell vehicles for freight transport throughout the country by 2030. 
Policy and Project Spotlight
a)    Guarantee of Origin System: In collaboration with other European countries for renewable hydrogen, this system allows the production method of hydrogen to be traced and to provide appropriate price signals to consumers. 
b)    Sun2Hy project: Led by Enagás and Repsol, the project focuses on the development of a new photoelectrochemical technology that allows the production of green hydrogen, 100% renewable, at a competitive cost, from solar energy through a direct process without external electrical input. This new technique can achieve a 90% carbon footprint reduction with respect to existing green hydrogen production technologies. 
c)     Power to Green Hydrogen Mallorca Project[6]: Spain's first industrial renewable hydrogen plant set up in 2020, by an industrial consortium led by Enagás and Acciona Energía on the Balearic Island of Mallorca in Lloseta. It will produce 330 tonnes of green hydrogen a year powered by the nearby 8.5MW Lloseta and 5.9MW Petra solar arrays. Green hydrogen will be used to fuel bus fleets and provide heating and electric power generation for commercial and public buildings on Mallorca and the Iberostar hotel group. It is a part of European-funded project Green Hysland. 
d)    Green Hydrogen Buses: According to the president of Barcelona's public transport authority, Barcelona became the first city in Spain to introduce renewable hydrogen fuel cell buses. The city announced in 2020 that Portuguese manufacturer Caetano Bus won a tender to supply the eight busses for €6.4 million. The buses will use 20 kilograms of hydrogen per day and have a range of 300 kilometres on a single charge. 
e)   HyDeal España: As the first project of the 67GW HyDeal Ambition plan, HyDeal España announced in February 2021 that it will power 7.4 GW of electrolysers from 9.5GW of solar power and create an industrial hub to decarbonise steel, fertiliser, and other products. It is expected to produce 330,000 tonnes of hydrogen each year that will be supplied to a new industrial hub in the Asturias region in northern Spain. The developers are steel maker ArcelorMittal and fertiliser producer Fertiberia. 
Financing
Out of the €7 billion announced towards renewables including green hydrogen and energy storage, €1.555 billion has been set out by the State for green hydrogen under its Strategic Project for Economic Recovery and Transformation plan (PERTE). 

Green hydrogen technology is expected to attract approximately €8.9 billion between now and 2030 from the public and private sector[7]. 

For the purposes of achieving such target, the Spanish Government has already approved the Strategic Projects for the Recovery and Economic Transformation (Proyectos Estratégicos para la Recuperación y Transformación Económica - PERTE) of Renewable Energies, Renewable Hydrogen. It will consist in the investment of € 1,555 million exclusively allocated to hydrogen developments during 2021-2023. By 2021, it was included (i) a credit of line of € 150 million for pioneering renewable hydrogen projects, with commercial viability, for local production and consumption in sectors that are difficult to decarbonise, such as heavy industry or heavy transport, and (ii) € 250 millioncredit line to promote the renewable hydrogen value chain, from components manufacturing to prototypes of new vehicles or electrolyser manufacturing projects to produce renewable hydrogen on a large scale.
Government green hydrogen lead
The Ministry for the Ecological Transition and the Demographic Challenge (MITECO) 
Key Hydrogen Association and Foundations: 
1.     Spanish Fuel Cell Association (APPICE) 
2.     Spanish Hydrogen Association (AeH2) 
3.     National Hydrogen Centre (Centro Nacional del Hidrógeno, CNH2)