Green hydrogen vision
Green hydrogen is expected to play a key role for Sweden to reach net zero emissions by
2045 and decarbonizing heavy industries and transportation. According to Fossil Free Sweden, a platform for government and industry collaboration, hydrogen projects planned so far in Sweden can achieve a reduction of 7.1 million Tonnes of carbon dioxide per year in direct emissions by 2045, equal to 14% of Sweden's national emissions. Green steel and iron produced with hydrogen and exported to customers abroad can contribute to further emissions reductions globally. 
Pioneering industrial projects in the steelmaking and transport sectors will help demonstrate the viability of new green hydrogen technologies and scale up production, use and investments. 
"Today's known hydrogen projects in Sweden can achieve a reduction of 7,1 million tonnes of carbon dioxide per year in direct emissions by 2045. That equals 14 per cent of Sweden´s national emissions" – Fossil Free Sweden
National Strategy
In November 2021 the Swedish Energy Agency put forward a proposal for a national fossil-free hydrogen strategy, emphasizing the urgency of limiting climate change and reducing dependency of fossil fuels.  
The proposed strategy sets concrete goals and capacity targets for both 2030 and 2045. It also identifies a number of measures to promote hydrogen development, including putting in place instruments to reduce the cost gap between fossil-free and fossil hydrogen and to establish a platform for dialogue between government actors, companies and industry organizations.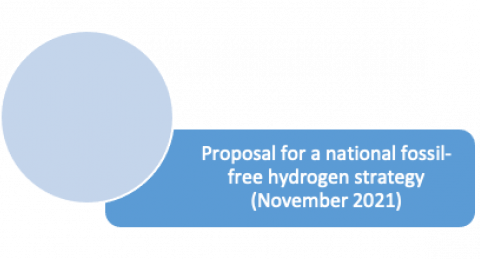 Capacity and price targets
• The proposal by the Swedish Energy Agency suggests a green hydrogen production target between 22-42 TWh of green hydrogen by 2030, and 44-84 TWh by 2045. 
• The Swedish Energy Agency has proposed a total electrolyser capacity of 5 GW by 2030 and 15 GW by 2045. 
Impact targets
The government aims to reduce CO2 emissions to1.5-3 metric tonnes by 2030 and 7-15 metric tonnes by 2045.  
Policy/ project Spotlight
Pioneering green steel projects: H2 Green Steel, a company founded in 2020 with the aim to build a large-scale green steel production in northern Sweden, is one of the pioneering companies aiming to use green hydrogen to decarbonise industrial processes. It is building its first mass production plant for emissions-free steel in the town of Boden. By 2026, the plant is to produce 2.5 million tons of hydrogen-powered steel annually, and 5 million tons from 2030. The plant will have an 800-megawatt electrolyser on the ground. The first equity financing of €50 million was done by a select group of investors, including Vargas, Scania, SMS group, and BILSTEIN GROUP.   

HYBRIT Green Steel: According to the Swedish venture Hybrit, it is the world's first customer delivery of "green steel" produced without using coal. It delivered the green steel to the truck maker VOLVO AB, as a trial run before full commercial production in 2026. SSAB, LKAB and Vattenfall created HYBRIT, Hydrogen Breakthrough Ironmaking Technology, in 2016, with the aim of developing a technology for fossil-free iron- and steelmaking.  

Hydrogen for aviation1: The Swedish Energy Agency has awarded funding for hydrogen projects that can lead to fossil-free aviation. There have been two awards- GKN Aerospace for developing engine subsystems in the national H2JET project, which is investigating hydrogen combustion-powered turboprop and the other, RISE SICOMP AB, which is focused on the development of ultralight liquid hydrogen fuel tanks for aircraft.  

Rock Cavern Storage: Three companies, Vattenfall, SSAB and LKAB have reached the halfway point in the construction of a rock cavern storage facility in a coastal city in northern Sweden. The 100-cubic-meter facility is being constructed 30 meters below ground and will begin storing green hydrogen next year. 
Financing
The total private financing for the Rock Cavern storage is €19.4 million Vattenfall, SSAB and LKAB and €4.8 million in public financing by the Swedish Energy Agency. 

The total financing for H2 Green Steel is €2.5 billion.