Green hydrogen vision 
According to the UK government, hydrogen is a low carbon solution that is critical for the UK's transition to net zero by 2050 and is a vital element of its Sixth Carbon Budget target by 2035. The government views low carbon hydrogen as a versatile replacement for the high carbon fuels and believes low carbon hydrogen will provide flexible energy for power, heat, and transport.  
To capture the economic benefits of the growing hydrogen economy, the UK aims to support innovation and stimulate investment to develop the supply chains and skills needed and create jobs and export opportunities. The target for the government, as set out in the 10-point plan for green industrial revolution, is 5 GW of low carbon hydrogen production capacity by 2030 for use across the economy. According to the government, this level of production is equivalent to amount of gas consumed by over 3 million households in the UK each year. 
National Strategy 
In August 2021, the Department for Business, Energy & Industrial Strategy presented a policy paper "UK Hydrogen Strategy" to the Parliament. The strategy is set out to develop a thriving low carbon hydrogen sector in the UK. The strategy is a comprehensive package developing a hydrogen business model to incentivise the production and use of low carbon hydrogen - designed to work for both 'green' and 'blue' hydrogen. 
The UK's Hydrogen Strategy outlines: 
Measures in which UK will rapidly and significantly scale up production and lay the foundations for a low carbon hydrogen economy by 2030. 

How government will support innovation and stimulate investment in the 2020s to scale up low carbon hydrogen   

Demand by sector, factors influencing hydrogen supply mix, and analysis of the main barriers to hydrogen uptake across the value chain. 
The strategy is divided into the following 4 phases, with key measures deployed around Production, Network and Use: 
Early 2020s (2022-2024) 
Small scale production 

Direct Pipeline/ Onsite use 
Some transport (buses and rail) 
Mid 2020s (2025-2027) 
Large scale production at one location 

Small scale cluster pipeline and storage 
Industry applications transport 
Late 2020s (2028-30) 
Several large-scale electrolytic projects 

Large cluster networks integrated with gas networks 

Wide use in industry, power and transport 
Mid- 2030s onwards 
Increasing scale and range of production 

Regional or national networks and large-scale storage 
Full range of end users including stell, power, shipping, aviation 
In addition to the strategy, the government has additional published documents on hydrogen: 
Consultation on a Hydrogen Business Model to stimulate private investment in new low carbon hydrogen projects 
Consultation on the design of the £240 million Net Zero Hydrogen Fund (NZHF) confirmed out to 2025 to support new hydrogen production project 

Consultation on a UK Low Carbon Hydrogen Standard that will define what is meant by low carbon hydrogen, allowing us to incentivise and support low carbon hydrogen for supply across the energy system 

Projected costs of hydrogen production technologies out to 2050, and an annex setting out the analysis and evidence underpinning the Hydrogen Strategy and consultations.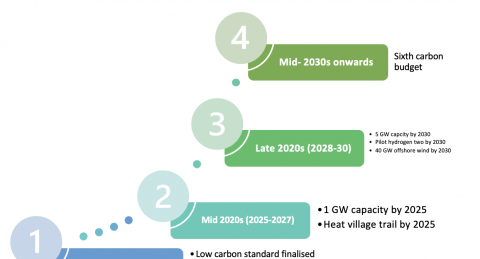 Capacity and capacity targets 
Impact targets
With the sixth carbon budget, the UK set the world's most ambitious climate change target into law to reduce emissions by 78% by 2035 compared to 1990 levels (20 April 2021). 

The UK government projects that hydrogen demand could be 20-35% of UK final energy consumption by 2050.  

Based on an analysis for the UK Hydrogen Strategy (2021), it is expected that hydrogen will power the following sectors by 2035: 
Industry: 25-45 TWh 
Power: 10-30 TWh 
Heat in buildings: 0-45 TWh 
Transport: 20-45 TWh 
According to BEIS's modelling, the use of low carbon hydrogen enabled by 5 GW production capacity could deliver total emissions savings of around 41Mt CO2 emissions between 2023-2032, equivalent to the carbon captured by 700 million trees over the same time period.  

The Strategy states that, in the best-case scenario, the UK's hydrogen sector could grow to create 9,000 jobs and attract £4bn of private investment by 2030.
Policy Spotlight
Policy Spotlight: 
Hydrogen Business Model: The BEIS is working to develop business models to help bring through investment in new low carbon hydrogen projects. The intention is to provide long-term revenue support to hydrogen producers to overcome the cost challenge of producing low carbon hydrogen compared to cheaper high-carbon alternatives.  

Low Carbon Hydrogen Standard: The standard supports the demand for low carbo hydrogen by providing confidence to end users that the hydrogen purchased is a low carbon alternative to existing fuels. A consultation on this standard was published alongside the strategy. 

Renewable Transport Fuel Obligation (RTFO): A sector specific policy in the transport arena to support decarbonisation by encouraging the production and use of renewable fuels that do not damage the environment. Suppliers of relevant transport fuel in the UK must be able to show that a percentage of the fuel they supply comes from renewable and sustainable sources.
Project Spotlight
Hydrogen in Shipping: HySeas III is the final development stage of a programme to deliver a procurement-ready design for what the project hopes will be the world's first sea-going vehicle and passenger ferry to employ carbon-free hydrogen as its energy source. The vessel is planned to operate in and around Orkney and will use hydrogen which is currently being produced on the islands from renewable energy. The HySeas project is supported by approximately £10.8 million in funding, of which £8 million is provided by the European Union Horizon 2020 programme. 

Hydrogen in Aviation: HyFlyer I and II are landmark projects provided ZeroAvia with funding to retrofit a small (six seat) aircraft with a hydrogen fuel cell powertrain, which completed the first-ever hydrogen powered flight of commercial-grade aircraft in September 2020. The flight also showcased a full zero-carbon emission ecosystem, with onsite hydrogen production via electrolysis. The funding is also supporting the company to scale up their technology for use in a 19-seat aircraft. ZeroAvia plan to have a commercial product by 2024. 
Financing 
The first package announced in August 2021 set out a £ 2 billion worth of funds that hydrogen projects can bid into, alongside other low carbon technologies.  

£ 100 millions of public funding was announced as part of the £1 billion Net Zero innovation portfolio to support heavy industry to switch to low carbon fuels including hydrogen. 

Net Zero Hydrogen Fund (NZHF): £ 240 million to be provided for CAPEX/DEVEX support to be launched in early 2022. 
Up to £ 100 millions of support towards initial electrolytic H2 projects. 

The BEIS introduced a Hydrogen Investor Roadmap: leading the way to net zero in April 2022, when it doubled its ambition up to 10 GW by 2030. 

Up to £ 12 billion capital infrastructure is available from the UK Infrastructure bank with Hydrogen as a priority. 
Government green hydrogen lead