Green hydrogen vision
The US Department of Energy (DOE) has identified green hydrogen as a key technology to decarbonize sectors like steel, ammonia, energy storage and heavy-duty transport. Clean hydrogen is crucial to DOE's strategy for achieving President Joe Biden's goal of a 100% clean electrical grid by 2035 and net-zero carbon emissions by 2050. The goal of the government is to reduce the cost of production to $1 per 1 kilogram of green hydrogen in 1 decade ("1 1 1") (Department of Energy Hydrogen Shot, June 2021). 
The DOE released a draft National Clean Hydrogen Strategy and Roadmap, with three key priorities of increasing the high impact use of hydrogen, reducing the cost, and deployment of regional hubs. 
"Clean hydrogen is key to cleaning up American manufacturing and slashing emissions from carbon-intensive materials like steel and cement while creating good-paying jobs for American workers" - Jennifer M. Granholm, U.S. Secretary of Energy 
National Strategy
The DOE published a National Hydrogen Program in November 2020. It outlines a coordinated effort across multiple offices within DOE that conduct research, development and demonstration (RD&D) activities on hydrogen technologies. 
The US does not yet have a dedicated national strategy for green hydrogen. However, on 7 June 2021, U.S. Energy Secretary Jennifer Granholm announced U.S. the DOE's Hydrogen Shot program aimed at improving the scale-of-production and reducing production costs. The target is to produce hydrogen at $2/kg by 2025 and $1/kg by 2030 via net-zero-carbon pathways hydrogen ($1 per 1 kilogram in 1 decade or "1 1 1")1.
The Roadmap to a U.S. Hydrogen Economy report forecasts that hydrogen from low-carbon sources could supply roughly 14 percent of the country's energy needs by 2050, including hard-to-electrify sectors now dependent on natural gas such as high-heat industrial processes and the manufacture of fertilizer. 
On 5 November 5, 2021, the US House of Representatives passed the Bipartisan Infrastructure Bill (BIB) which includes hydrogen technology investments the US Department of Energy (DOE) to deliver reliable, clean and affordable energy to communities across the US. This is a major component of President Biden's plan to decarbonize the industrial sector, which accounts for a third of domestic carbon emissions. The BIB includes US$9.5 billion in support for hydrogen, including $8 billion to establish regional hydrogen hubs. The proposed "Build Back Better" Act also provides for production tax credits of up to $3 a kilogram for 10 years or an investment tax credit of up to 30% of the cost of the electrolyser and other equipment. 
The recently released draft from September 2022, National Clean Hydrogen Strategy and Roadmap, focuses on strategies with three key priorities of increasing the high impact use of hydrogen, reducing the cost, and deployment of regional hubs. Furthermore, in August 2022, the President signed the Inflation Reduction Act (IRA) into law (Public Law 117-169), which provides additional policies and incentives for hydrogen including a production tax credit which will further boost a U.S. market for clean hydrogen.
To implement these strategies, DOE will work with other agencies, as well as with industry, academia, national laboratories, local and Tribal communities, the environmental and justice communities, and numerous stakeholder groups to accelerate progress and market lift off. Effective collaboration and coordination are cornerstones in all of DOE.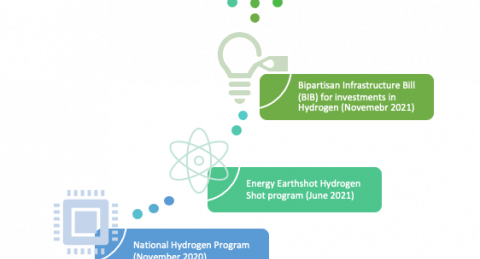 Capacity and price
According to IPHE data the current electrolyser capacity in the US is 172 MW.  

The Department of Energy has set a price target of $1 per kg by 2030. 

Pathways for clean hydrogen to decarbonize applications are informed by demand scenarios for 2030, 2040, and 2050 – with strategic opportunities for 10 million metric tonnes (MMT) of clean hydrogen annually by 2030, 20 MMT annually by 2040, and 50 MMT annually by 2050.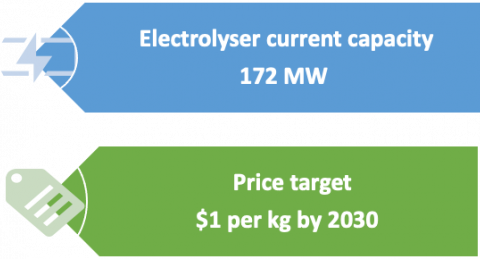 Impact targets
The government aims to reduce 16% carbon dioxide emission by 2050.  

According to the US Department of Energy, the hydrogen value chain will generate $140 billion/year by 2030 and $750 billion/year by 2050 in revenues. This will create 700,000 new jobs by 2030 and a cumulative 3.4 million jobs by 2050.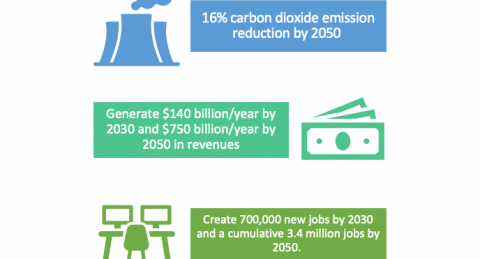 Policy and Project Spotlight
Rocket Fuel for SpaceX : A 60 GW renewable hydrogen2 project by a Texas based start-up called Green Hydrogen International. It will be powered by wind and solar, with its own salt cavern for storage and a plan to produce clean rocket fuel for Elon Musk's SpaceX. It will be centred around a hydrogen storage facility in the Piedras Pintas Salt Dome, with pipelines to the port cities of Corpus Christi and Brownsville on the Mexico border and will produce more than 2.5 million tonnes of green hydrogen a year upon completion.  

Hy Stor Energy Green Hydrogen Hub3: Hy Stor Energy announced a green hydrogen production and storage complex in Mississippi in October 2021. It promises to produce 110,000 metric tons of green hydrogen and storing approximately 70,000 metric tons of green hydrogen in its underground salt caverns by 2025. The plant is supposedly 10 times larger than any other green hydrogen project in the USA and one of the largest in the world4.  
Financing
A bipartisan package of $9.5 billion signed on 15 November 2021 to lower the costs of clean hydrogen.  

The U.S. Department of Energy (DOE) has opened applications for the $7 billion program to create regional clean hydrogen hubs (H2Hubs) across the country, as part of a larger $8 billion hydrogen hub program funded through President Biden's Bipartisan Infrastructure Law.

$1 billion for electrolysis and clean hydrogen manufacturing  

$500 million for Clean Hydrogen Manufacturing and Recycling Initiative
Government green hydrogen lead